If you are a student or a staff member that has been accused of harassment or sexual misconduct, you may wish to consider the information on this webpage. The University does not tolerate harassment or sexual misconduct. However, it will never take action on the basis of a complaint without conducting a full investigation, which will include you knowing the full detail of the complaint and having an opportunity to respond to the complaint.
You may find it useful to consider these steps:
1. Don't panic or take action that you may later regret
Regardless of whether you think you have acted rightly or wrongly, it is always best to take advice first and act second.
2. Find out about the process that will take place
If someone makes a complaint about you, there will always be a written process that will be followed.  You should be fully aware of this process; asking questions about the process will never be linked to an assumption of wrongdoing.  See below for information relating to the processes available at the University.  If you have been accused of something that could also be a criminal offence then you may wish to seek legal advice.  For University procedures, members of the law faculty have volunteered to provide legal representation to students for free, where it is required.  Contact oscca@admin.cam.ac.uk if you wish to receive this support.
3. Accessing support
As well as getting advice during the investigation, it is important that you consider getting support for your wellbeing.  You can be negatively affected by keeping the investigation to yourself.
At the University, you can speak to your College Tutor, College Nurse, Senior Tutor, College Counsellor or the Students' Union Advice Service.  You can also access counselling at www.counselling.cam.ac.uk/studentcouns. The University has a Personal Data Handling Policy on how it will use your information.  There are limited circumstances where the University is required to share information with the Police.  If you want to discuss anything confidential with staff, ensure you have understood the limits of confidentiality and how the information you are providing might be used later on.
Outside the University, external specialist organisations include:

If you have any feedback or questions regarding these webpages or the University Harassment and Sexual Misconduct Procedure please contact oscca@admin.cam.ac.uk
Q.

What is harassment and sexual misconduct?

The University has a Code of Conduct that defines harassment and sexual misconduct.  The Code itself provides full definitions of the behaviour expected by students.  Some examples of harassment and sexual misconduct include:

Examples of harassment:
making sexually offensive comments about dress or appearance, the display or distribution of sexually explicit material, or demands for sexual favours; 
engaging in harassment on the grounds of a person's sexuality (or assumptions about a person's sexuality)  including making derogatory homophobic, transphobic or biphobic remarks or jokes aimed at a particular person, offensive comments relating to a person's sexuality, refusal to acknowledge a person's gender or identity, or threats to disclose a person's sexuality to others;
making offensive references to a person's race, ethnicity, skin colour, religion or nationality, dress, culture, background or customs which have the effect of ridiculing or undermining an individual or fostering hatred and/or prejudice towards individuals or particular groups;
ignoring, disparaging or ridiculing a person because of mistaken assumptions about their capabilities, or making offensive reference to an individual's appearance, in the context of their disability;
controlling or coercive behaviour, such as pressure to subscribe to a particular political or religious belief.
Examples of Sexual Misconduct
sexual intercourse or engaging in a sexual act without consent;
attempting to engage in sexual intercourse or engaging in a sexual act without consent;
sharing private sexual materials of another person without consent;
kissing without consent;
touching inappropriately through clothes without consent;
inappropriately showing sexual organs to another person;
repeatedly following another person without good reason;
making unwanted remarks of a sexual nature.
Am I being accused of a criminal offence?
The Code of Conduct expects higher standards of behaviour than is required by the law and therefore a breach of the Code of Conduct will not necessarily constitute a criminal offence.  You can find more information about some related criminal offences here: http://www.cps.gov.uk/legal/p_to_r/rape_and_sexual_offences/consent/.
The University will never report a matter to the Police unless it is considered that the University Community is at significant risk.  However, if a student believes someone has committed an offence against them, the University will support a student who decides to report it to the Police.
If you are reported to the Police then normally any connected University or College Procedure will be paused to allow for a police investigation to take place.  Following a police investigation or criminal proceedings, the University or College will consider the most suitable action to take. 
Q.

What should I do if someone directly accuses me of harassment or sexual misconduct?

A student may choose to discuss the matter with you directly, rather than raising a complaint.  In dealing with the accusation informally you will need to listen carefully and calmly to what is being said. If you find that you have unintentionally caused offence, or you believe that your words or actions have been misinterpreted or misjudged, then you will need to keep calm in order to try to reach an understanding with the person accusing you.

Be prepared to consider participating in conciliation or mediation if an attempt is made to resolve the matter informally. If you come to realise that you have harassed another person be ready to change the behaviour causing offence. You may wish to seek support in changing your behaviour in future: the University Counselling Service or other external support may be able to help you.

If you believe the accusation to be unfounded say so, but arrange to seek advice and support as soon as possible, whether the situation is resolved informally or formally.
Q.

What is the Procedure for Handling Student Cases of Harassment and Sexual Misconduct?

The University has a Code of Conduct and a Procedure for Handling Student Cases of Harassment and Sexual Misconduct - http://www.admin.cam.ac.uk/univ/so/2018/chapter02-section27.html#heading2-31 - for considering any student case of harassment or sexual misconduct.  Students are able to report the behaviour of other students using the University or a College Harassment and Sexual Misconduct Procedure.  This Procedure enables an investigator to meet with you, the complainant and any other parties.  The investigator will not make any findings or decide what behaviour took place.  However, the investigator can suggest actions, usually with the purpose of limiting the contact between you and the complainant student.  If either you or the complainant student do not agree to the proposed actions then the complaint can be referred for consideration under the University Disciplinary Procedure.

If your behaviour is reported ensure you seek advice.  Do not attempt to contact the complainant directly, even if there has been a misunderstanding.

If a complaint is made against you, you and your Senior Tutor will be informed in writing of:
the nature of the complaint;
who has made the complaint (other than in exceptional circumstances); and
an outline of the next steps.
Flow Chart of the Harassment and Sexual Misconduct Procedure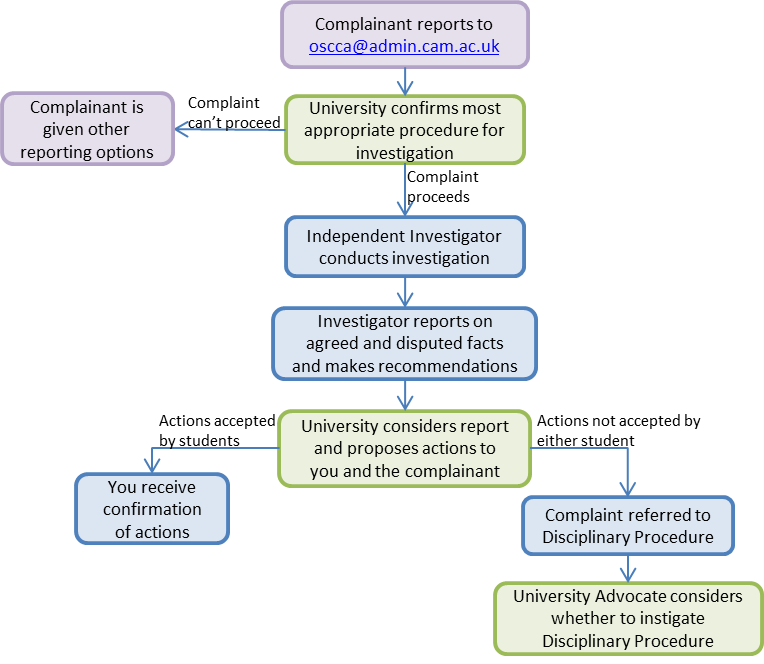 If the complaint is investigated you will be invited to meet with the investigator; you will able to be accompanied by someone during any meetings you attend.
What happens after an investigation?
The investigation will not confirm whether any harassment or misconduct has taken place.  However, regardless of what has taken place, both you and the complainant student may be distressed and any future interaction may be difficult.  Therefore, the investigator has the option of suggesting a number of actions, these could include:
no further action
the offer of mediation
your agreement not to enter certain buildings or not to approach the complainant student
a confidential meeting with an independent specialist professional to provide you with support around your sexual behaviour
intermission
referral to the Discipline Procedure for further consideration
If you do not agree to the suggested action then the case can be referred to the Disciplinary Procedure for formal consideration. 
Q.

When will the University Discipline Procedure be used?

The University Disciplinary Procedure will be used for matriculated students. The disciplinary procedure for non-matriculated students taking courses at ICE, CISL and certain other University institutions will be the procedure that is provided by that institution.

Cases may be referred to the Disciplinary Procedure by a decision-maker if you or the student complainant do not agree to the suggested actions or because you are unhappy with the outcome of the Harassment and Sexual Misconduct Procedure.

Following referral, the University Advocate may decide to invoke the University's disciplinary proceedings, require further attempts at resolution, or to take no action.

If the University Advocate invokes disciplinary proceedings the investigator's report, the decision made following the report and the reasons for the decision will be made available for consideration to the Discipline Committee.

The Discipline Committee will be able to make findings about your behaviour and if you have breached University rules, impose any of the resolutions available at the earlier stage, and may also apply any of the sanctions ordinarily available to it. These include expulsion; deprivation (or suspension) of degrees or membership of the University; deprivation (or suspension) of the right to use University premises or facilities; a fine; or an order to pay compensation.