If you are a student who has been accused of inappropriate personal behaviour (physical misconduct, sexual misconduct or abusive behaviour), you may wish to consider the information on this webpage. The University does not tolerate inappropriate personal behaviour. However, it will never take formal action on the basis of a complaint or report without conducting a full investigation, which will include you knowing the full detail of the complaint and having an opportunity to respond to the complaint.
You may find it useful to consider these steps:
1. Don't panic or take action that you may later regret
Regardless of whether you think you have acted rightly or wrongly, it is always best to take advice first and act second.
2. Find out about the process that will take place
If someone makes a complaint about you, there will always be a written process that will be followed.  You should be fully aware of this process; asking questions about the process will never be linked to an assumption of wrongdoing.  See below for information relating to the processes available at the University.  If you have been accused of something that could also be a criminal offence then you may wish to seek legal advice.  For University procedures, you can always seek advice from your College Tutor, Senior Tutor, or the Student Advice Service.
3. Accessing support
As well as getting advice during the investigation, it is important that you consider getting support for your wellbeing.  You can be negatively affected by keeping the investigation to yourself.
At the University, you can speak to your College Tutor, College Nurse, Senior Tutor, College Counsellor or the Students' Union Advice Service.  You can also access counselling at www.counselling.cam.ac.uk/studentcouns. The University has a Personal Data Handling Policy on how it will use your information.  There are limited circumstances where the University is required to share information with the Police.  If you want to discuss anything confidential with staff, ensure you have understood the limits of confidentiality and how the information you are providing might be used later on.
Outside the University, external specialist organisations include:

If you have any feedback or questions regarding these webpages or the University Harassment and Sexual Misconduct Procedure please contact oscca@admin.cam.ac.uk
Q.

What is 'sexual misconduct', 'physical misconduct' and 'abusive behaviour'?

The University defines these types of behaviour with its Rules of Behaviour under the Student Disciplinary Procedure.  The definitions are as follows:

'Physical misconduct' is any unwanted and unreasonable contact. Physical misconduct includes pinching, punching, kicking, slapping, pulling hair, biting, pushing, shoving, using weapons and using items as weapons.

'Sexual misconduct' is any unwanted and unpermitted sexual activity. Sexual activity includes sexual acts, kissing, sharing private sexual materials of another, touching through clothes, showing sexual organs and remarks of a sexual nature. Sexual misconduct can take place in physical or virtual environments.

'Abusive behaviour' is any unwanted behaviour which is reasonably likely to cause harm; or have the effect of violating another's dignity; or create an intimidating, hostile, degrading, humiliating or offensive environment for that other. It includes threats, abusive comments, the use of or supply of illicit substances, making malicious accusations, repeatedly contacting someone, and abuse that takes place within an intimate relationship. Abusive behaviour can take place in physical or virtual environments.

While all of the words in the definitions above carry their ordinary meanings, the University has further defined the word 'unwanted' as meaning 'unwelcome' or 'uninvited'. It is not necessary for a person to object to the behaviour for it to be unwanted. It has also defined the word 'unpermitted' means 'not permitted' or 'unauthorised'. A number of behaviours can indicate where permission has been given, for example, verbal comments or physical actions. Permission for an activity can only be given at the time it is taking place and where the person has the choice to give or not give permission. Where there is disagreement as to whether an activity was unpermitted, the applicable test shall be, taking all circumstances into account, whether a reasonable person would consider the activity was unpermitted.
Am I being accused of a criminal offence?
The University's Rules of Behaviour expect higher standards of behaviour than is required by the law and therefore a breach of the University's rules will not necessarily constitute a criminal offence.  In any case, a decision about whether there has been a breach is made using the University's internal procedures, which work very differently to the criminal justice process.  You can find more information about some related criminal offences here: http://www.cps.gov.uk/legal/p_to_r/rape_and_sexual_offences/consent/.
The University will never report a matter to the Police unless it is considered that the University Community is at significant risk.  However, if a student believes someone has committed an offence against them, the University will support a student who decides to report it to the Police.
If you are reported to the Police then normally any connected University or College Procedure will be paused to allow for a police investigation to take place.  Following a police investigation or criminal proceedings, the University or College will consider the most suitable action to take. 
Q.

What should I do if someone directly accuses me of inappropriate personal behaviour?

A student may choose to discuss the matter with you directly, rather than reporting the matter to the University or College.  In this circumstance you will need to listen carefully and calmly to what is being said. If you find that you have unintentionally caused offence, or you believe that your words or actions have been misinterpreted or misjudged, then you will need to keep calm in order to try to reach an understanding with the person accusing you.

Be prepared to consider participating in conciliation or mediation if an attempt is made to resolve the matter informally. If you come to realise that you have harassed another person be ready to change the behaviour causing offence. You may wish to seek support in changing your behaviour in future: the University Counselling Service or other external support may be able to help you.

If you believe the accusation to be unfounded say so but arrange to seek advice and support, including from your College, as soon as possible, whether the situation is resolved informally or formally.
Q.

What is the Informal Complaint Procedure for Student Misconduct?

The University has an Informal Complaint Procedure for Student Misconduct, which enables a student to report another student's behaviour for the purpose of facilitating an agreement between them to limit all future contact. This Procedure enables a facilitator to meet with you and the reporting student separately.  The facilitator will not make any findings or decide what behaviour took place.  However, the facilitator can suggest actions to which both you and the reporting student can agree, to limit contact between you both.  If either you or the reporting student do not agree to the proposed actions then the complaint can be referred for consideration under the Student Disciplinary Procedure.

If your behaviour is reported ensure you seek advice.  Do not attempt to contact the complainant directly, even if there has been a misunderstanding.

If a report is made against you, you and your Senior Tutor will be informed in writing of:
the nature of the complaint;
who has made the complaint (other than in exceptional circumstances); and
an outline of the next steps.
Flow Chart of the Informal Complaint Procedure for Student Misconduct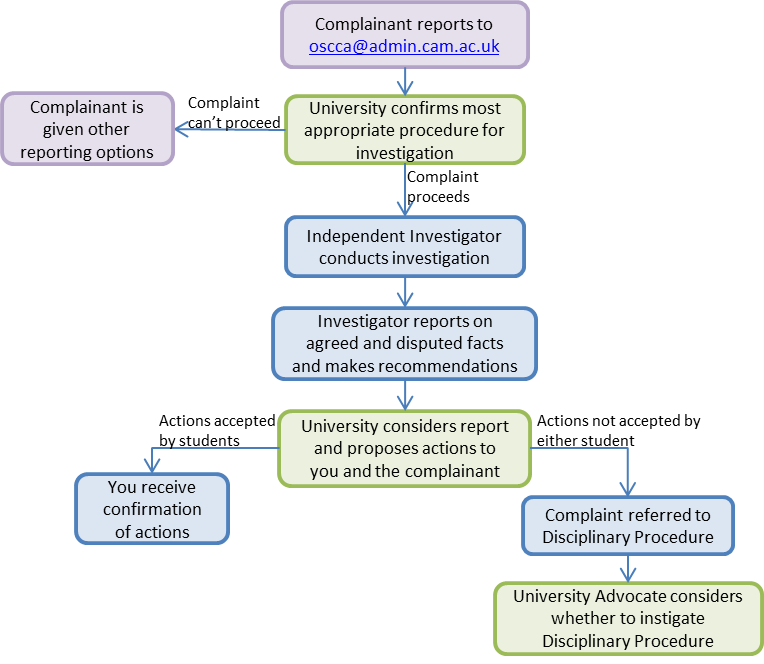 If the complaint is investigated you will be invited to meet with the facilitator; you will able to be accompanied by someone during any meetings you attend.
What happens after the meeting with the facilitator?
The procedure will not determine whether any misconduct has taken place.  However, regardless of whether any misconduct has taken place, both you and the reporting student are likely to be circumstances where you feel distress and any future interaction may be difficult.  Therefore, the facilitator has the option of suggesting a number of actions, these could include:
no further action
the offer of mediation
your agreement not to enter certain buildings or not to approach the reporting student
a confidential meeting with an independent specialist professional to provide you with support around your sexual behaviour
intermission
referral to the Student Disciplinary Procedure for further consideration
If you do not agree to the suggested action then the case can be referred to the Student Disciplinary Procedure for formal consideration. 
Q.

When will the University Discipline Procedure be used?